ACOUSTIC ENCLOSURES (CANOPY) :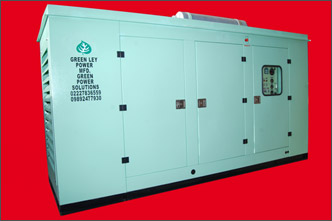 ACOUSTIC ENCLOSURES is not mandatory for Gas Gensets .Where the genset is required to work in noise-sensitive areas, e.g. hospital, hotels, residential districts etc. a canopy can be provided to suit the most stringent noise specifications. Our acoustic enclosures are built to withstand extreme weather conditions.
The acoustic enclosure is manufactured with a steel outer skin, and is lined with fireproof, acoustic material. Each canopy is designed with a panel viewing window. Side-opening access doors are provided. Attenuators are placed on the hot air outlet and cooling air inlet with corresponding weather louvers , allow sufficient airflow for the set operate even under the harshest ambient conditions whilst maintaining specified noise levels without loss of power.
A high efficiency exhaust silencer(s) of the residential type are mounted either on top of, or inside the enclosure, with all internal pipe work including flexible bellows already connected, exhausting to atmosphere. The canopy is finished in epoxy or polyurethane two pack paint.